Nofirno sealing systems for cable transits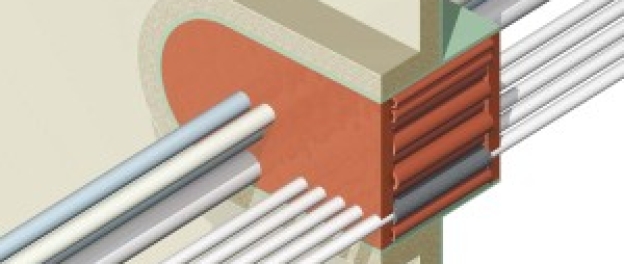 NOFIRNO
Nofirno sealing systems for cable transits is a very novel and innovative concept introduced by Beele Engineering BV The Netherlands. Nofirno cable transits sealing systems have been used in the UAE, Middle East and various parts of the globe for more than 3 decades.
The Rise and Nofirno cable transits are in use with various offshore installations, building
Wherever metallic pipes and or cables have to be sealed RISE/NOFIRNO offer the ultimate solution – the ultimate in fire ratings, the shortest installation times and maintenance friendly. Even combined penetrations for metal and plastic pipes as well as cables can be sealed effectively. One system for all types of penetrations! This multi-all-mix system is approved for any combination of cable, metallic, GRP or plastic pipes and has a service life of over 20 years. Needless to say that the NOFIRNO system offers the best Total Cost of Ownership on the market of sealing systems.
RISE/NOFIRNO is fire safe as well as gas and water tight systems. The system is approved for the harshest fire ratings for pipe penetrations (A, H and Jet Fire class) and allows substantial movement of the ducted pipe within the conduit. The high pressure ratings allow the system to be used for gas and/or watertight penetrations as well. To obtain the required water tightness no compression is needed. The system has no metal parts thus avoiding corrosion on the pipe work. The perfect sealing of the NOFIRNO sealant also avoids (invisible) corrosion within the penetration.
Typical application areas
shipbuilding and retrofitting
offshore installations
building and construction
other environments where the safety of people and installations has to be guaranteed.
Visit our website: www.rise-nofirno.com for a complete presentation.
The NOFIRNO system offers the following features:
Approved for harshest fire ratings for pipe penetrations (A, H and Jet Fire class).
Allows substantial movement of the ducted pipe within the conduit.
High pressure ratings – designed for gas and/or watertight penetrations.
Prevents corrosion inside the penetration.
Longest service life and best Total Cost of Ownership on the market.
NOFIRNO® rubber sleeves and sealant will remain stable and not be consumed by fire.
Breakthrough – MULTI-ALL-MIX SYSTEM®
Approved for any combination of cable, metallic,
GRP or plastic pipes!
The RISE-NOFIRNO system can be used for cable, pipe and combined penetrations on board ships, offshore installations and onshore applications (building and construction, telecoms, energy, water, etc.) please contact us for installation videos.
For your requirements in the UAE and Middle East please contact hamly@emirates.net.ae or visit www.hamlyinternational.com